Public Holidays
South Africa has 12 public holidays per year, more than most other countries around the world. Some of these holidays are celebrated in many countries worldwide such as 1 January, New Year's Day' and 1 May, 'Worker's Day'.
Various religious holidays of the different faiths are celebrated in South Africa as well, however, only the Christian holidays, Christmas and Easter, are recognised as 'official' holidays.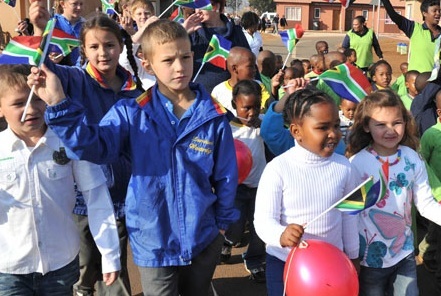 South Africa also celebrates various remembrance holidays which commemorate the country's history. These are:
21 March: Human Rights Day

27 April: Freedom Day (South Africa's national holiday)

16 June: Youth Day

9 August: Women's Day

24 September: Heritage Day

16 December: Day of Reconciliation
Be advised that, when a holiday falls on a Sunday, the following Monday becomes a public holiday. On these days, the Sunday shopping hours usually apply, except for Christmas and Easter when most shops will be closed.
Here is some interesting trivia on how South Africa compares to the rest of the world:
Public Holidays Trivia:
How South Africa compares to the World
Number of public holidays
South Africa has 12 'official' holidays

The country with most is Columbia with 18 days followed by India and Lebanon with 16 each

The country with least is Mexico with only 7 days
Did you know, that the 1 May 'Workers Day' is celebrated in over 80 countries world-wide (although in some countries it is called Labour Day).
Internationally, Workers' Day is based on the industrial struggle for an eight hour week. In South Africa Workers' Day became official in 1994 when the government recognised the role played by workers. This is the day when the achievements of labour movements are remembered and ensure that future plans continue to entrench equality in labour rights.
If we combine normal leave and public holidays
South Africa has 15 working days leave a year and 12 official holidays, which means our average is a combined total of 27 working days a year

Employees with the potential for most holiday time are in Austria and Malta with 38 days a year followed by Poland (37 days) then Spain and the UK (36 days)

The country with the least days off a year is Canada which only has 19 days
Statutory leave (legal requirement to give your employees leave)
The country with most statutory days leave is the UK  (28 days)

The country with least statutory days leave  is America - they have no mandatory leave days

Many countries vary the leave which employees are entitled to depending on the number of years they have been working.
Average Work Week
The average South African work week is 40 hours

If you lived in Seoul, Korea, you wold work an average of 48 hours a week and in Hong Kong an average of 45 hours.

If you lived in Paris then you would work 35 hours a week.
Do you need more insights and information about South Africa?
Click for sample pages

If you are interested in more in-depth, well-researched and up-to-date information:

Order your copy of the Living in South Africa guidebook directly from us. Simply click on the button below and find relevant information how and where to buy the book.
This post was shared by Derryn Campbell on the SMILE 90.4fm Thursday breakfast show with Bobby Brown and Tracey Lange. For more weekly Awesome South Africa discussions tune into SMILE 90.4 fm every Thursday morning at 7.10am. or click on the following link to listen via live streaming.
Source for South Africa Trivia: 'Awesome South Africa' by Derryn Campbell, 'Living in South Africa' and www.mercer.com
Image Credits: Shutterstock.com, Mediaclub South Africa, South Africa Tourism and own.
Return from Public Holidays to South Africa Facts
Back to Living in South Africa Homepage