Moving to South Africa
Moving to South Africa, or in fact to any foreign country, is an unsettling experience and presents a variety of challenges. Preparing the move in easy-to-manage steps will make your relocation an enriching and less painful experience.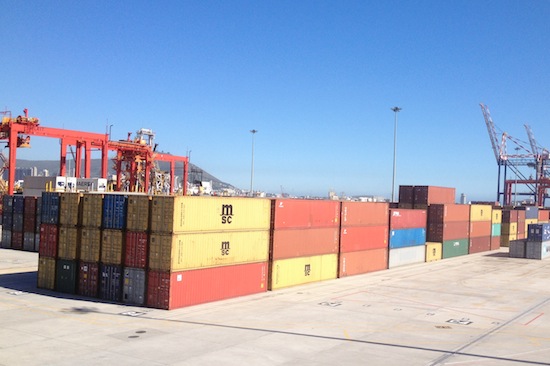 What to consider when moving to South Africa?
Besides finding the right moving company, there are many things to consider before your relocation. Here are some of our top tips you need to remember before you go:
Moving Companies
We often get asked to recommend moving companies. There are many moving companies that do international relocations but we always advise to contact a moving company that is experienced in dealing with customers moving to South Africa. Among the biggest moving companies dealing with relocation to South Africa are the following relocation companies:
Elliot Mobility
Crown Relocations
Biddulphs
Stuttafords
Anglo-Pacific
Pickfords
Sterling
Using an experienced moving company means that the settling-in process will usually proceed much more smoothly. The book will give you a detailed moving list and lots of helpful tips regarding the moving process.
Import Restrictions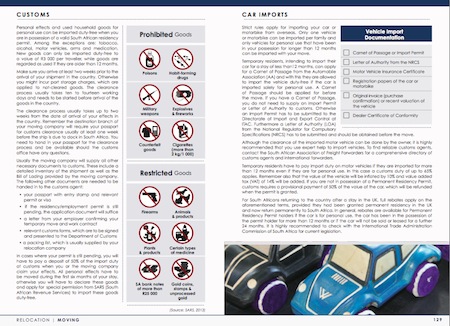 Personal effects and used household goods for personal use, however, can be imported duty-free when you are in possession of a valid South African residency permit. Strict rules apply for importing your car or motorbike from overseas. Temporary residents have to pay import duty on motor vehicles if they are imported for more than 12 months. Pets are subject to strict import and quarantine regulations, depending on the animal. It is recommended to approach a registered pet transfer company, such as Global Paws, Animal Travel or Pet Transport.
Read more about import matters, regulations and duty rebates in the 'Living in South Africa' book.
Immigration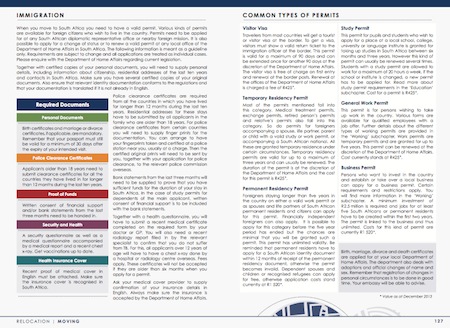 When you move to South Africa you need to have a valid visa or permit. Various kinds of permits are available for foreign citizens who wish to live and work in the country. Permits need to be applied for at any South African diplomatic representative office or nearby foreign mission. The book will give you a guideline on the various types of permits and on the documents you will have to provide to the Department of Home Affairs as well as tell you who can apply for the respective categories and what are the costs involved. Remember, that requirements are subject to change and all applications are treated as individual cases.
Read more about immigration to South Africa here.
Living Standards and Living Costs?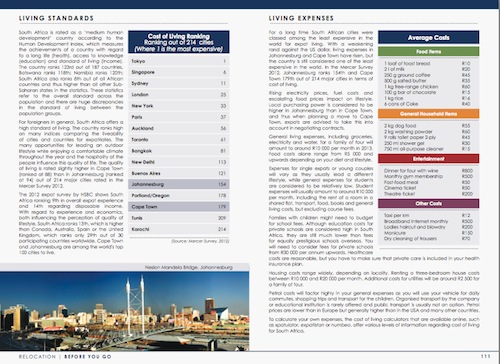 For foreigners in general, South Africa offers a high standard of living. The quality of living for expats in the country is rated highly by expatriates from around the world. South Africa ranks among the top five countries for raising expat children. The cost of living in South Africa is among the lowest for expats (being paid overseas) and thus comparable with that of Minsk or Tunis, according to the Mercer Survey 2016. For quality of living, the three major cities in South Africa, Cape Town, Johannesburg and Durban rank higher that Shanghai or Buenos Aires, but slightly below Madrid.
General living expenses, including groceries, electricity and water, but excluding cost for housing and utilities, school fees and transport costs, amount to around R15,000 per month for a family of four. You will find more detailed information regarding living expenses and average costs in our book.
Crime and Safety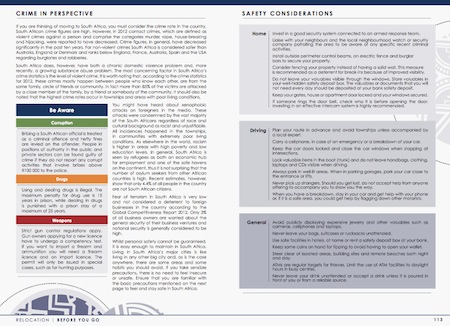 The crime rate in South Africa is high. However for non-violent crimes, living in South Africa is often considered safer than in Australia, England or France. South Africa does, however, have both a chronic domestic violence problem and a growing substance abuse system. The most concerning factor is the level of violent crimes, which,  according to the national crime statistics happen mostly between people who know each other, are from the same family, circle of friends or community. Read more about crime in South Africa here.
Whilst personal safety cannot guaranteed, it is easy enough to maintain in South Africa. There are areas and habits you should avoid and if you take sensible precautions, there is no need to feel insecure or unsafe. You can read more about safety considerations in the book.
View sample pages

Are you interested in more in-depth, well-researched and up-to-date information?

Then order your copy of our updated e-book Living in South Africa, the 2015 revised expat guide directly from us.

Simply click on the button below to find relevant information on the e-book.

Easy - simple - enjoy!

Pay via secure Paypal and download your ebook as pdf or epub version, and start your journey! 
Image Credits for Moving to South Africa: shutterstock.com and own images
Back from Moving to South Africa to Homepage
Return from Moving to South Africa to Living in South Africa Homepage