Immigration to South Africa
For your immigration to South Africa, whether you move to South Africa or come for a visit, you must have a valid visa or residency permit when entering the country. South Africa is a popular expat destination and the latest statistics show that just over 3% of the country's population are foreigners. 
Foreign residents in South Africa can apply for various permit categories and temporary or permanent residency permits. When entering the country on a temporary basis, the relevant category of visa has to be specifically applied for and cannot usually be changed when in the country. There are also permanent residency permits for applicants who intend to live in South Africa as permanent residents, want to invest in the country and who meet specific criteria.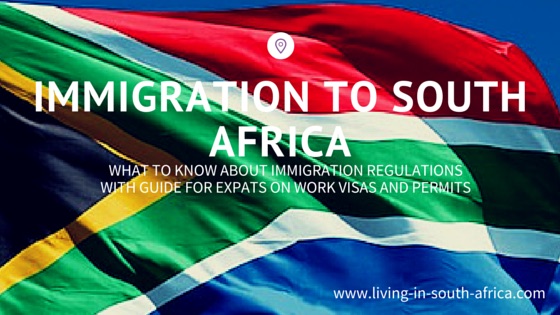 New South Africa Immigration Regulations
New immigration regulations were introduced in South Africa in May 2014 and further changes regarding travel with children came into effect on 1 June 2015. Visa applications will not anymore be handled directly by the offices of the Department of Home Affairs in South Africa as VFS Global was appointed to establish and manage a call centre for the Department of Home Affairs to assist clients with relevant enquiries and above mentioned applications.
Under the new regulations, the term 'visa' replaces the term 'permit' except for the permanent residence permit. Temporary residence 'permits' will be in future referred to as 'temporary residence visas'. Further, first time applications for temporary visa must be made at the foreign mission in the country of origin or where the applicant permanently resides. When in possession of a tourist visa, no changes to the category can be effected within South Africa, spouses or life partners have to submit their first application for a temporary permit from their home country. Only renewals or extensions within the same category can be made in South Africa.
Foreigners with long term visa (work permits/permanent residency permit) in the neighbouring countries who transit the Republic to return to their employment or residence are not subject to the transit visa, provided they are in possession of proof of their status.
Immigration to South Africa
from: 'Living in South Africa' expat guide book.

Foreigners applying for a change of visa must approach either the South African foreign mission in their country of residence or can apply, in certain circumstances, at the local VFS visa offices in South Africa. 

Further the newly established VFS centres, see below, will handle the following applications: 

temporary residence visas
permanent residence permits
waivers
exemptions
appeals

Various documents are required to be submitted with visa applications. In the 'Living in South Africa' book we will give you further tips regarding submitting your documentation. 

| | | |
| --- | --- | --- |
| | 'Your book is fabulous. It will be of great benefit to any inbound expat to the country.' | |
Further Changes according to the new Immigration Regulations
Read more about working in South Africa and the various work visa here.
Visa Application for South Africa
Foreign nationals, including their children, have to submit their application, supporting documents and biometric data in person at the VFS Global visa facilitation centres. Applicants are permitted to bring somebody to assist, such as an immigration consultant or relocation specialist.
Foreigners in South Africa, need to apply and register online, apply for an appointment, pay the relevant fee and then must visit the nearest VFS centres for submitting biometric data (digital finger prints and facial scan) and supporting documents. 
Remember to check carefully for all necessary documents to bring, as you can only file the documents at time of the application at the VFS centre and cannot add on further documents at a later stage during the application process.  You will run the risk of getting your permit or visa refused, when you do not hand in all necessary documents at the initial stage.
Read the Department of Home Affair's step-by-step guide here.
Appeals can be directed to the following immigration officers at the Department of Home Affairs:
Mr.RonneyMarhule at 082 803 7116 or 012 406 4591 or 012 406 4814 or  ronney.marhule@dha.gov.za and
Ms.Menoe at 073 896 3988 or 012 406 2868 or 012 406 7150 or   reginah.menoe@dha.gov.za
How much does a South Africa visa cost?
For all visa and permit applications the Department of Home Affairs (DHA) fees apply. These are fixed costs depending on the visa and permit category and range between R425 and R1520.
An additional new VFS service fee of R1350 (for all visa and permit applications) is charged from now on whether the Department of Home Affairs charges a fee or not. Thus spouses and dependent permits which are still free of a DHA charge, however attract a VFS service fee. The fees can be paid via EFT. Be aware that fees for optional services, such as copy fees, internet access or sms notification fees, will be charged on top of the standard VFS fee.
Where are the VFS centres?
There are 11 VFS Global centres established in South Africa. They are located in all 9 provinces. The locations and opening dates are as mentioned below:
Pretoria: 114 Fehrsen Street, Cheryl Lane Office Par, 1st Floor, Nieuw Muckleneuk, Brooklyn. 0181 - open from 2 June 2014
Johannesburg: Rivonia Village, Corner Rivonia Blvd and Mutual Road, 1st Floor, Johannesburg - open from 18 June 2014
Cape Town: 2 Ribeek Street, Absa Building, 21st Flooor, Cape Town 8001 - open from 20 June 2014
Durban: 36 Silverton Road, Silver Oaks, Suite 3 Ground Floor, Musgrave - open from 9 June 2014
Bloemfontein: 14 Reid Street, The Park, Suite 4, Westdene - open from 9 June 2014
Rustenburg: 26 Von Wielligh, Bo Dorp, Rustenburg - open from 2 June 2014
Kimberley: Agri Office Park, N12, Unit 3 Building 2, Kimberley - open from 2 June 2014
Nelspruit: 30 Brown Street, Nedbank Building, Office 5F, Nelspruit - open from 23 June 2014
Polokwane: Corner Veldspaat and Munnik Ave, Thornhill Shopping Centre, Shop 13, Bendor - open from 23 June 2014
Port Elizabeth: Moffet on Main, Office 7D, 1st Floor, Corner 17th Avenue and Main Road, Walmer, Port Elizabeth 6070 - open 23 June 2014
George: 5 Progress Street, Unit 5, Rotal Eagle, George - open from 9 June 2014
Immigration to South Africa: More info
More information regarding the new VFS visa service for South Africa as well as the mandatory application forms for immigration to South Africa can be accessed online on the following new website:

VFS Global South Africa/Department of Home Affairs
The call centre can be reached on the following number:
0027 12 425 3000
The centre will operate between 8h00 to 12h00 and 13h00 to 17h00, from Monday to Friday.
The Department of Home Affairs Toll Free number is:
0800 60 11 90
South Africa Immigration Consultants
For more information regarding your immigration to South Africa, contact an experienced immigration consultant or relocation specialist. Among many others, there are the following consultants:
Disclaimer: This summary is for information purposes only and not for the purpose of providing legal advice. You should contact an immigration lawyer to obtain advice with respect to any particular issue or problem regarding your immigration to South Africa.
Image credits on Immigration to South Africa: shutterstock, SATourism and own images.
Go back to Moving to South Africa
Return from Immigration to South Africa to Living in South Africa Homepage