Christmas Markets
in South Africa 2017
Christmas markets are always a great places to enjoy the spirit of the season. Many arts and crafts markets in South Africa can be explored during the festive season. 
Christmas is celebrated by the majority of the people living in South Africa and during the this season, visiting markets and buying local gifts and thus supporting artisans and crafters of the community is growing in popularity all over the country. And as Christmas is in summer, many of the markets are set in stunning surroundings.
The markets we mention below offer a wide range of products from skilfully designed arts and crafts to tantalising culinary treats. Some markets are day markets, while others offer special evening opening hours and 'moonlight experiences' and some even attract visitor with additional Christmas carol concerts.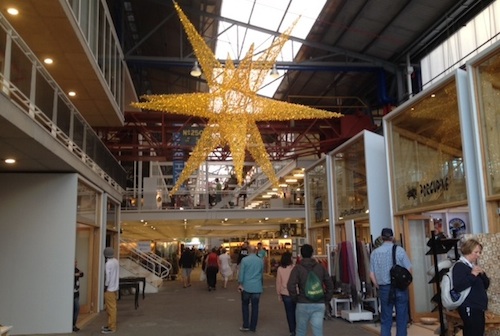 'The Watershed' market at Cape Town's V&A Waterfront
The markets below are listed per province for easy referral. Please go to the various markets' websites to find out more about their location, dates and contacts.
Great Christmas Markets in South Africa 
Eastern Cape
Port Elizabeth: Christmas in the Home. 1 - 3 December 2017. More info. Gift and craft market at the Boardwalk Hotel. With trendy decor, gourmet foods and exquisitely handcrafted gifts. More info.
Grahamstown: The Bathurst Country Affair. 30 November - 2 December 2017. Plenty of goodies to fill your christmas stockings. Arts and Crafts, local delicatessen, unique mostly hand-made products, great activities and so much more. More info.
Gonubie: Thistlewoods Christmas Night Market. 22 December 2017 Christmas Fair at Thistlewoods from 15h00-22h00. 
Free State
Bloemfontein: Kersmark. 10 - 12 November 2017. With locally produced arts and crafts. And make sure to bookmark also the Boeremark at Langhovenpark. Saturdays from 6h00 until 14h00. See more info on their Facebook page.
Kroonstad: Krismismark. 28 November - 2 December 2017. More on Facebook: Kroonheuwel Krismismark
Gauteng
KwaZulu-Natal
Durban: I Heart Market. Saturday 2, 9, 16 December 2017 at Moses Mabhida Stadium on the Imbizo Lawns from 9h00 to 14h00. Support local designers and artisans, with food stalls. See their Facebook page: Iheartmarket or click here for more info.
Hillcrest: Shongweni Farmers & Crafts Annual Market. Every Saturday November/December 2017, Carols by Candlelight and market with live music and a showcase of handcrafted items and delicious food. From 9h00 until 16h00. More info
Hillcrest: Curro Christmas Festival. 14 - 19 December 2017 in Inanda Road. Over 150 tables with food court and kids entertainment at this indoor market. More info.
Limpopo
Haenertsburg: Christmas Fair: end of November 2017. tbc. With yummy food and arts and crafts stalls and goodies to make your perfect gift. More info.
Mpumalanga
White River: Uplands Xmas Market. 4 - 

5 November 2017 at the Barnyard at Casterbridge. 

With food stalls, craft stalls, tea garden and live entertainment with the South African band Watershed. See 

Facebook: Uplands Christmas Market
Bagdad: Christmas Market. 11 November 2017. Crafters Market and Bazaar Bakes and Food Stalls. 10h00 until 17h00. More info
Northern Cape
Kimberly: Kuier Kuier Kersmark. 28 November 2017 - 2 December 2017 in Bridge Street. With handmade gifts and cookies, bake sale and crafts tables.
North West
Rustenburg: Rainhill Farm Christmas Market. 3 December 2017. Annual festive season market on Rainhill Farm. More info.
Western Cape
Cape Town: Christmas Lightshows at the V&A Waterfront. TBC Enjoy the festive atmosphere and visit the Watershed where more than 150 stalls offer African arts and crafts and offer locally-made products and gifts galore. More info.
Cape Town: Summer Market at the Company Gardens. TBC. Annual market from mid December 2017. With the many stalls it is easy to find the perfect local Christmas gift for your loved ones. Food stalls and live music in the afternoons and evenings.
Edgemead: Christmas Market. 8 - 23 December 2017 at the Community Hall. Indoor market with more than 200 of the Western Cape's finest crafters displaying their wares. Daily from 10h00 until 20h00. More info.
Stellenbosch: Kamera vol Geskenke. 30 October - 5 November 2017. More info.
Swellendam: Kersmark. 23 - 25 November 2017. More info.
Find many more Cape Town Markets listed here
Image on Christmas markets page: Shutterstock and own image