Hi



A very warm welcome to our newsletter 'Lekker Living in South Africa' and Season's Greetings.

Our newsletter will keep you up-to-date with the latest news, tips and insights to embrace life in South Africa!

Please spread the word and share this newsletter with your friends and family to tell them about this awesome country and its amazing people.

This is what you will find in this newsletter:

* Learn the Lingo: 'baggies' and 'granadillas'

* Fun Things to Do: Festive spirit in summer

* Places to Visit: Garden Route

* What's in the News: Expat children

* Get inspired: The time is ripe to do right - Season's Greetings



* What means 'baggies'? This South African slang word refers to men's long shorts used for swimming. Also often called 'board shorts' these swimming trousers are especially popular worn at the beach whereas tight swimming trousers are usually only worn in gyms and indoor swimming pools.


* What are 'granadillas'? Granadillas or passion fruits are overseas also referred to as 'maracuja'. The fruit, which is farmed in many parts of the country, is cut in half and the content is spooned out. The dark edible seeds in the fruit are eaten together with the orange pulp. When granadillas are ripe, they turn purple.





* Let's celebrate: Christmas is celebrated in summer in the southern hemisphere. Numerous events take place to celebrate and share the festive spirit of the season. From carol singing at the beaches to open-air concerts, from arts and crafts markets to traditional pantomimes, a special atmosphere can be experienced during the festive season.

What is going on in December in South Africa? Read more here.


* Support local artists at the Christmas Markets: The annual Christmas markets offer great opportunities to buy lovely local made gifts for your family and friends while supporting South African crafters and artisans.

Check out our listing of great South African christmas markets.


* Enjoy beach life: South Africa spots some of the best beaches in the world. Camps Bay Beach in Cape Town was listed in the 2014 Tripadvisor Awards as one of the Top 25 beaches in the world! With more than 3,000km coastline in South Africa, there is a beach for everyone, whether you want to swim with penguins, surf the waves, fish or sunbath or walk. Please remember to never surf or swim alone and avoid sunburn, exhaustion and heat stroke by dressing adequately, wearing sunscreen and drinking plenty of fluids.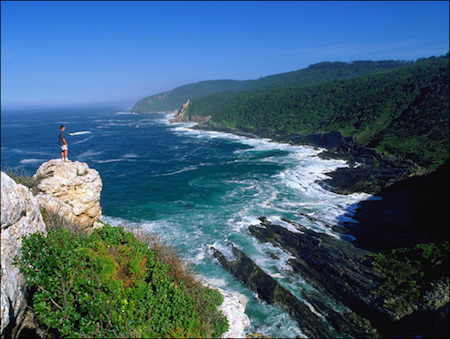 The Garden Route is one of the most famous coastal roads in the South Africa and links Port Elizabeth with Cape Town. Many towns along this route, among them Jeffreys Bay, Plettenberg Bay, Knysna, Sedgefield, Wilderness and Mossel Bay, are popular holiday resorts. Accommodation is plentiful with great places to stay in for every taste and budget. A wide variety of attractions, activities and entertainment options can be explored. It is interesting to know that the climate along the Garden Route is recorded as the second mildest in the world, after Hawaii, in the Guinness Book of Records!

Especially the region around the scenic Knysna lagoon is popular not only with local holidaymakers but also with international tourists and expats. George, which is centrally located along the route, is also the commercial center and has a domestic airport connecting the region with major South African cities. The town is also renowned for its world-class golf courses.

The Eastern Cape is especially popular with outdoor enthusiasts. Jeffreys Bay claims to be a mecca for surfers whereas further to the west, the lush Tsitsikamma national forest offers awe-inspiring treetop walks and the world's highest commercial bungee jump from Bloukrans Bridge. There are also various multi-day hiking trails which lead along the most picturesque coastline.

Image Credits: Philip van den Berg, courtesy of SA Tourism





* Economy: The prime lending rate remains unchanged in December at 9.25%. The unemployment rate is 25.4% in the third quarter of 2014. The inflation rate has again decreased to 5.8% (November 2014), and is again in the target range of 3%-6%.
* Load Shedding: The South African power utility Eskom is currently implementing a load shedding programme to stabilise the electricity supply. The planned power cuts are experienced due to scheduled maintenance works, delayed implementation of newly constructed plants and unexpected damage to some older power plants. The power cuts affect the various parts of the country at different times. They seldom last longer than a couple of hours, are usually announced ahead of time in the media and essential services are usually not affected.
* Raising Expat Children: Did you know that South Africa has been voted the second best place in the world, after New Zealand, to raise expat children? The latest HSBC expat survey among more than 9,000 expats worldwide offers stunning insights.

For more information regarding the expat survey click here.





'We must use time wisely and forever realise that the time is always ripe to do right' (Nelson Mandela)

The festive season is a time for giving, sharing and spreading love. We all can make a difference in somebody else's life if we get involved. This is often easier to do than we think. Just start with spreading the word! Join and support any of the amazing local initiatives such as www.charitysa.co.za or www.awesomesa.co.za and spread the goodwill!
26 December is called 'Day of Goodwill' in South Africa. Also referred to as 'Boxing Day' in many other parts of the world, this public holiday was renamed in 1994 to show that all cultures in South Africa share the festive spirit and goodwill.



If you're looking for a special gift which has a positive message and will bring a smile to the reader, then anyone of our three books makes a wonderful gift. The books can be found in most bookstores in South Africa or ordered via www.takealot.com or www.kalahari.com. And for those in the UK & Europe, you can order online from www.centralbooks.co.uk
Make sure you join our Facebook forum 'Living in South Africa' for regular updates and to share insights and tips on moving to and living in South Africa with other like-minded people.
In our forum, on the blog and website, you will find many tips and news on happenings and events for expats and all who want to embrace life in South Africa. We welcome your information and comments and look forward to hearing from you!
All the best wishes for a peaceful and joyful festive season and enjoy life wherever you are,
Regina and Derryn